as soap is to the body. I totally agree with this quote! Laughter is a need, a necessity. So where do you get your daily dose from?
I get mine from various origins. Friends, family, and yes... facebook! (lol) are just a few of my favorite source. My regular dosage of smile and laughter comes from my daughter Hannah. I just feel so alive and so young when I am with her. You know how kids are. They do such crazy and funny things without any prompting or prodding at all! I can just imagine how fun it is to be a child.. even if it's only for a few minutes.
This being said, I would like to share to you a simple layout that I did about my daily laughter with Hannah. This is my take for
Category Stories October prompt 1
. I have used some leftover Sassafras pps from my stash.
The photo used here was taken at a time I was fooling around with Hannah and giving her my hair for a temporary wig. She looked like Sadako from "THE RING". (Sorry it was a reference to a Japanese horror flick). I was totally out of my mind laughing and rolling with her. This was a very happy and carefree day for us.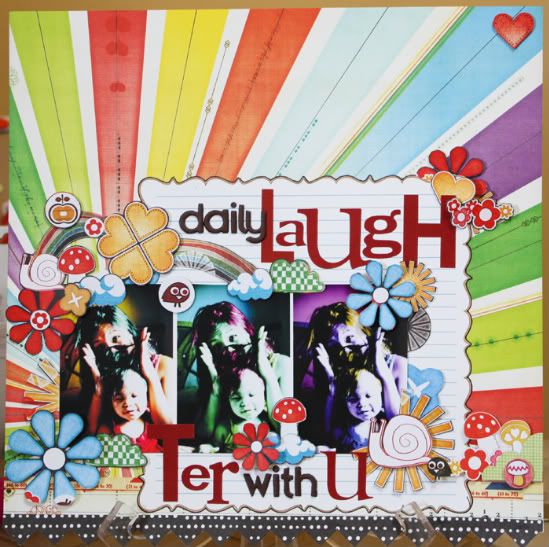 This is me and Hannah fooling around. I love playing with her, it even makes me cry because I am so thankful for having her in my life. Thanks for dropping by!