I have never had any baby tantrums issue with my DD when she was younger that's because her daily routine was just sleep, eat and cry (not the annoying crying type) most of the day. But as she stepped the 1yr old mark some bad habits developed. She constantly cries when she wants something, her body gets stiffed when she's angry, she squeals like crazy and she hits me or herself sometimes.
It was driving me crazy.
I kept thinking when is the right time to start disciplining. How do I discipline a baby who doesn't speak and might not understand the words that I am saying.
Thank goodness I read somewhere that a reality show titled
SUPERNANNY
was highly recommended by Oprah so I checked it out. After watching one episode, I immediately learned that starting disciple as early as possible, even for newborns, is the best time to start. Jo Frost, the Supernanny, mentioned that we should not underestimate babies/children and we should start early because once they have developed some bad habit, it will be harder to correct.
So after watching several episodes, I have learned a lot of techniques that I can apply to my 1yr and 8mos DD. I love the TIMEOUT technique, the Bedtime Routine technique and the Eating technique. Everything worked after a few tries.
I was totally surprised how Hannah coped to all this disciplinary thing that we are doing. She totally understands what's going on. She listens to me. She is more sweet than ever.
She is quite bright than the other kids that I saw from the show. They hesitated to follow, they push their parents buttons to the max thus causing them more timeout minutes. Unlike Hannah who obeys, saying sorry immediately, who now knows how to say please when she needs something. And this coming from a 1yr old baby, not even a toddler. I am so proud of her.
So inspired by the Supernanny show, I made a layout using a photo of my baby crying like crazy a few months back when Supernanny was not yet in the picture. My journaling was about her different baby tantrums.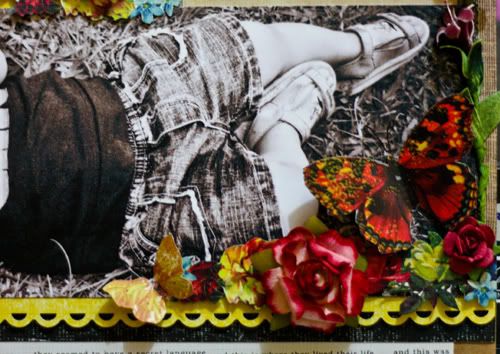 For this layout I have used
GCD
's new collection Arty Urban plus some flowers from my stash. I was also inspired by Pam's template.
Go check out
Supernanny!
I highly recommend it to all mothers out there because you can learn a thing or two about the proper way of disciplining your little ones.