Happy Monday and Happy 1st of February!!!
What a great day to start the week and this month, I was able to do 4 layouts earlier using the February kit from
CropAddict
. Yup you read it right, 4!!! This was actually the first time I was able to do 4 layouts in a day and I am so pleased. of course that would not be possible if I have my 1 year old goofing around me LOL. She's at my parents house for 2 days. YAY!
Anyway, I just want to share to you how amazing the February Kit is from CropAddict. It is jam-packed with goodies from BoBunny, Heidi Grace and Little Yellow Bicycle. The value of this kit is $48 but our price is
$32
because of a lot of bonus add-ons.
Our February Always & Forever monthly scrapbook kit features 12 stunning double sided papers from BoBunny's Flutter Butter Collection and Heidi Grace Frost Blvd Collection. 2 Die Cut papers and 6 sheets of coordinating Bazzill cardstock, including 1 sheet of Bazzill Bling are included. Embellishments include Scenic Route Alphabet letters, Little Yellow Bicycle Lace Paper, Heidi Grace Flocked Paper, Heidi Grace Glitter Paper, coasters, other coordination embellishments,and beautiful ribbon from May Arts.
BONUS EXTRAS
include 7 Gypsies Two Way Album, My Little Shoebox mini alphabet stickers, Die Cuts with a View flocked papers, chipboard, and 6 1/2 sheets of Little Yellow Bicycle valentine paper.
To get the full list, click
here
!
You will truly fall in love with this amazing kit. The BoBunny Flutter Butter is perfect for everyday pictures, the Heidi grace Frost Blvd is perfect for winter pictures and the Little Yellow Bicycle is perfect for Valentines pictures. Simply AMAZING.
Here are a few layouts that I did using the CA February kit: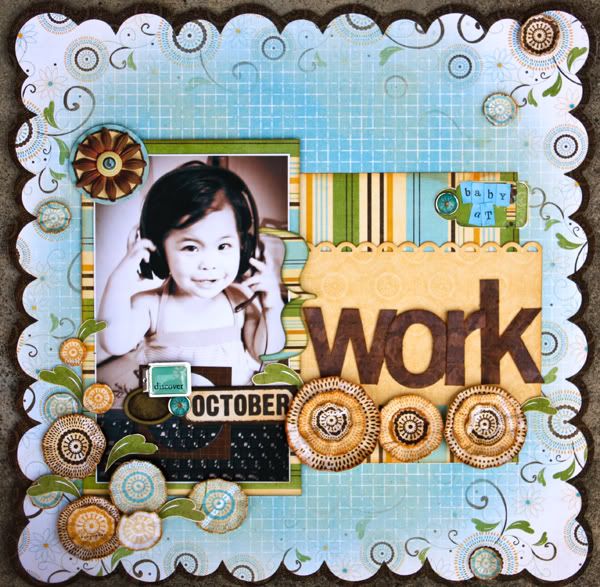 Here was Hannah mimicking my work. She's just so adorable when she do this.
Patterned Papers:

BoBunny's Flutter Butter
Brads:

BoBunny's Flutter Butter
Stickers:

BoBunny Flutter Butter
Alpha:

Scenic Route and My Little Shoebox Mini Alphabet Stickers
Frame:

K&Co Life's Journeys Oval Brass Frameups
Snaps:

WeR Memory Keepers Extra Large Square Snaps
Others:

Imagination Project Calendar Jumbles, Ranger Distress Inkpads and Fiskar border punch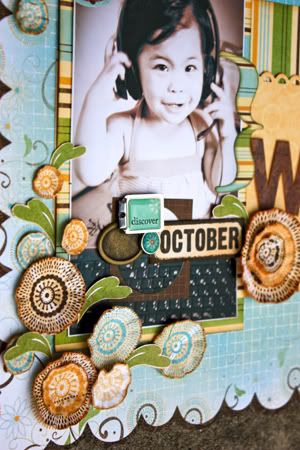 The flowers were cutout from the BoBunny patterned papers. I crumbled the cutouts, sand the edges and inked it using some distress inkpads by Ranger.
POP.Corn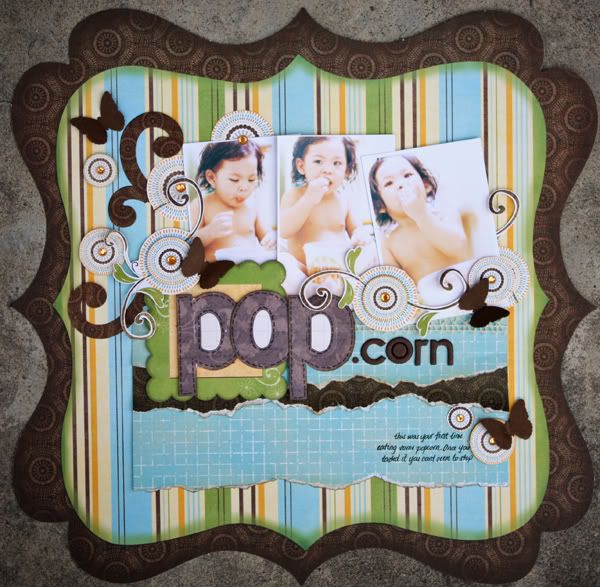 Once she pops she cant stop! LOL that was mainly the scenario on this photos. This was her first time eating a caramelized popcorn that we bought at the mall, I think the flavor was White Chocolate Walnut popcorn. She was in heaven and doesn't want to stop.
Cardstock:

Bazzill
Patterned Papers:

BoBunny's Flutter Butter
Alpha:

Scenic Route and Basic Grey's Chip (from my stash)

Blings:

Kaisercraft from my stash

Stickers:

BoBunny Flutter Butter
Others:

Martha Stewart's Classic Butterfly Punch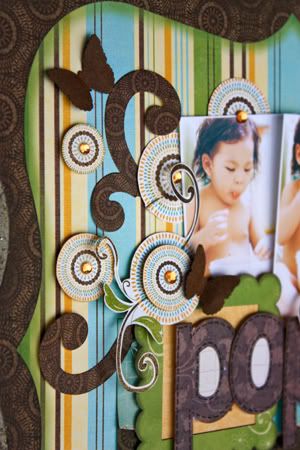 So here there are more cutouts LOL I think my layout is not complete without cutouts!
Will post more layouts tomorrow! Thanks for dropping by!