Hannah was born April 2008. That small midget doesn't look like me at all LOL but now that she's almost 2 years old, I see a lot of similarities from the both of us.
Physical features - we are both chinita and morena. She got her built from me too. We have wavy black hair and similar lips.
Attitude - we are both impatient at times, stubborn and childlike LOL. We are persistent and hard working and sweet like a candy.
Personality - here we are very different because she's outgoing and friendly while I'm an introvert.
Mannerism - we almost talk alike, soft and sweet voice. We each have tube pillows that we hug everynight. Cant sleep without it.
These are a few of our common traits that I find very fascinating as a mother. I always thought that she is so different from me but now, I just feel closer with her since we enjoy the same things and we love being together.
Here is a layout that was inspired by all of this:
Patterned Papers: Making Memories Love Struck Flocked Ledger, Diecut Stamp, Valentine Tag, Be Mine Stripe, Newsprint heart, Heart Vine, Pattern Heart
Alpha: American Crafts Thickers Lullaby and Delight
Brads: Making Memories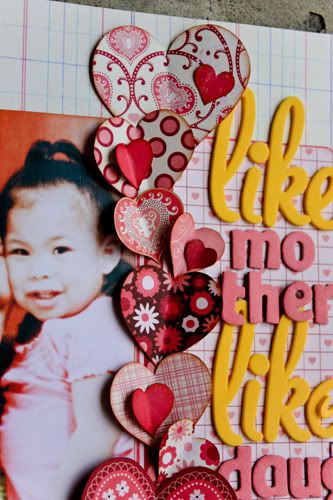 I adore this line from Making Memories. I love the variations of patterned papers, the cute embellishments and the endless ideas that has inspire me to create more pages. And don't you just love all those hearts?!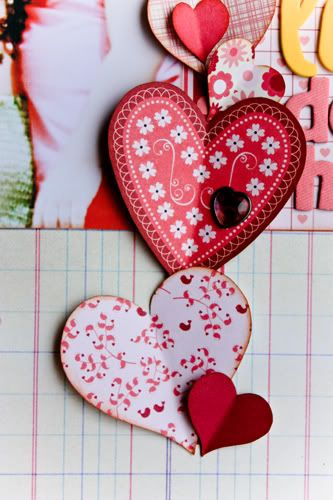 I highly recommend this beautiful Love Struck line by Making Memories. Stock up now! It's available here at
YourScrapbookStash
Online Store.
And don't forget, we have an ongoing promotion here at YSS, you will get a 20% off from your entire order. Enter coupon code
LOVE2010
during checkout to receive your discount.
Save 20% off all NEW products and an additional 20% off all SALE prices.
Grab this opportunity now! Click
here
to start shopping!
Thanks for dropping by!