As of the moment my dear Hannah is really sick. She's been having a high fever for the past dew days and has been vomiting every time she tries to consume anything. Poor baby. Usually during this time I make sure that she drinks plenty of water and I need to make sure that her temperature will not get any higher than 39C (102.2f) but today her fever is still at 39.5C (103F) taken from her armpit and I know its really high, she also doesnt want to drink any liquid because of the vomiting. I might need to bring her to the hospital when DH arrives home from work.
It is really sad when this things happen to our little ones. We just wish we were the one sick not them. I just pray that she will feel better soon. I really felt guilty because just the other day, while she was playing, I kinda irritated her to pose for me several times so that I can get a shot that I can use for a page that I am planning. It turned out, I was able to get a shot that I was not expecting, Hannah crying because of me.
Here is my layout: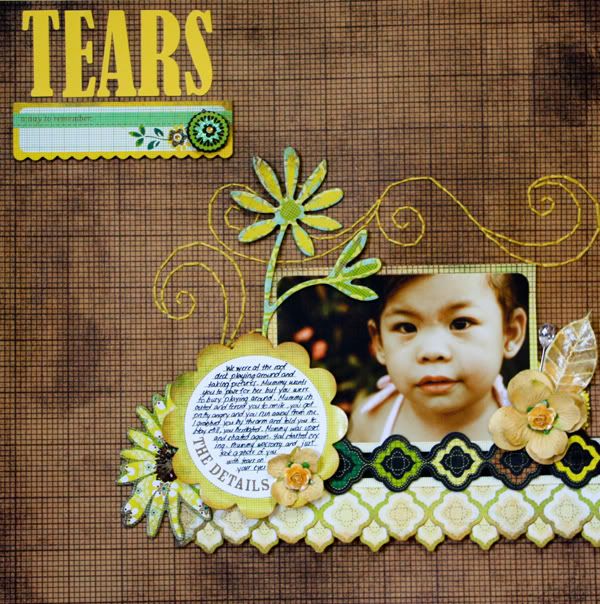 I have used
My Scrapbook Nook's February kit
featuring BasicGrey's Origins and some Prima Marketing flowers and leaf from my stash.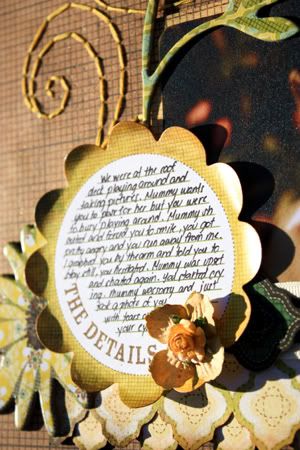 I initially sprayed some
VIBEZ Sunset Strip
on my main background paper to add shimmer to it. Then using a paintbrush, I opened the lid of my VIBEZ and dip my paintbrush on it and painted the scalloped area of the BG journaling spot. I love the shine it gives to it! Also, I handstitched the swirls on my layout. Phew!
The flowers are cream Prima Hydrangeas but with
VIBEZ Sunset Strip
, the flowers are now perfect for my color combination. With just a little spray, I was able to get an intense color orange that added shimmer to it. You should try it!
This is a white skeleton leaf from Prima which was from my stash. Using a medicine dropper, I added
VIBEZ Sunset Strip
. I tilted the leaf on all sides to spread the color. Once it dried, I also added
S
himmerz Golden Wheat
s
to the outline of the leaf.
I really enjoyed using my
Nook
February kit with the new
Shimmerz VIBEZ
. I love the paper and the embellishment combination that Leah did with the kit. I'm surely going to order another one!
So what are you waiting for? Order your Nook Kits NOW!!! Remember, this kit is available at
My Scrapbook Nook
. And remember, if you avail of our subscription, you'll get these kits for
only $28 monthly
. Avail of our 12months subscription and you'll get your 13th month kit for
FREE
. So hurry up! Sign up now! And dont forget to place my name (LG) on the referral field.
ORDER HERE!!!!
Thanks for dropping by!