2 of my lovely bloggy friends
Tracey
and
Kim
. I have to list 10 things that make me happy, 5 pieces of trivia about myself, and then pass this award along to 5 other bloggers I love...so here goes
THINGS THAT MAKE ME HAPPY...
1. My gorgeous daughter Hannah's who's turning 2 in a few days
2. My very supportive and loving husband, Reggie
3. My parents and siblings
4. Scrapbooking
5. Vacations
6. Shopping (clothes and scrappy stuff)
7. Romantic surprises
8. Spending time with friends
9. Big and small accomplishments
10. Watching my favorite TV series
Bits about me:
1. I don't drink coffee unless I am really sleepy during work hours
2. My usual Starbucks drink is Mocha Frap Venti with Blended Whip
3. I prefer white sauce pasta over tomato based pasta
4. I am a quiet type of person. I love listening more than talking
5. I am afraid of heights
So now I have to tag 5 people, so.....
:
1. My scrappy bff
Cathy
2. The talented and gorgeous
Tara Orr
3. The sweetest Nook DT
Becky Williams
4. The best of the best,
Karola
5. My loving husband
Regie
Wow that was hard, if only I can tag everybody. Feel free to check out their blogs because they are all amazing and the dearest friends ever.
Anyway, I just want to squeeze this small toot. My layout "How Sweet It Is" is the featured layout on Making Memories Customer Idea Gallery for this month. Click image to check it out. Feel free to vote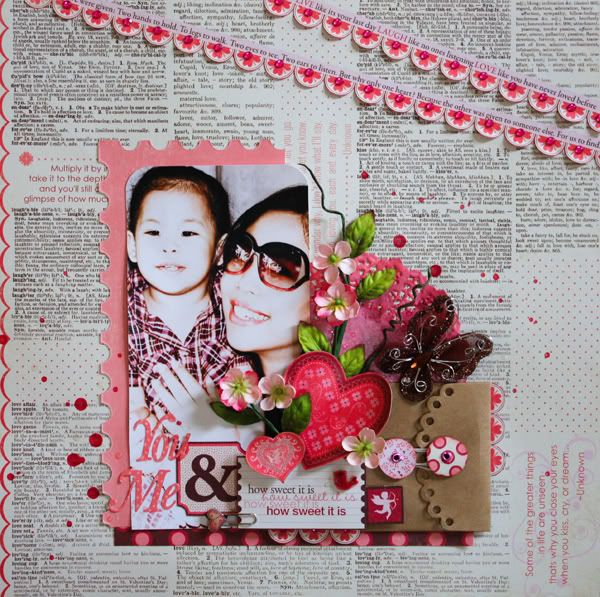 Watch out for
Creative Scrappers
reveal tomorrow because it will feature the Nook DTs take to their sketch!