WOW can you imagine? It's April already. In a few weeks, Hannah will turn 2. Woohoo! I am so anticipating this month and now it is finally here.
Ever since I arrived from China last March 17, I had been pretty busy catching up with all my DT assignments. I have made a total of 14 layouts I think. A pretty good number for a slow scrapper like me who also works full time.
For today's post, I would like to share to you another layout that I did using the very beautiful March Kit from
My Scrapbook Nook
featuring Pink Paislee's Bayberry line. I adore the colors in this kit, vibrant and fun!
Cardstock:
Bazzill
Patterned Papers:
Pink Paislee Bayberry and Prima Marketing
Alpha:
American Crafts Thickers
Overlay:
Hambly Screen Prints
Paint:
Shimmerz Spritz (Tuscan Sun, Sea Foam and Ruby)
Sticker:
Heidi Swapp
Others:
Corrugated board, brads and pen from my stash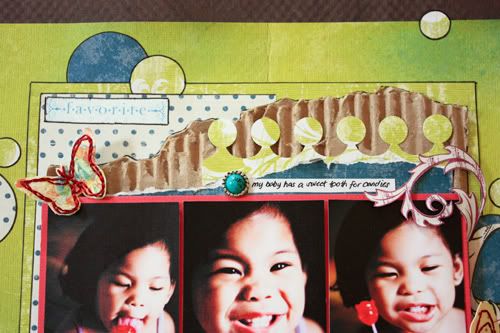 I just love the colors and the patterns from this kit. It is perfect to everyday photos that I have. So get your Nook Kits now because everything is just getting better and better. And remember, if you avail of our subscription, you'll get these kits for
only $28 monthly
. Avail of our 12months subscription and you'll get your 13th month kit for
FREE
. So hurry up! Sign up now! And dont forget to place my name (LG) on the referral field.
ORDER HERE!!!!
To see the contents of the April kit, click
here
.