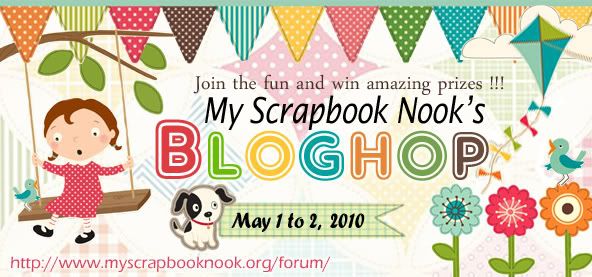 Welcome to My Scrapbook Nook's Blog Hop! I am so excited to see you all here as we altogether celebrate the National Scrapbooking Day. Before we get started please make sure that you start at

Leah's blog

. You should have came from

Stacey's blog

before reaching my here.
Let me introduce myself, I am LG from Manila, Philippines and have been a Nook DT since August 2009. I am so privileged and excited to be part of this amazing kit club. The Nook community has been a big inspiration to me ever since I joined them.

Let me tell you about My Scrapbook Nook Kit Club. The kits are loaded with the latest and greatest products in the scrapping industry, always balanced and creatively designed to help you in your creative journey! We draw from a variety of manufacturers, favoring textures, patterns and concepts that compliment and enhance the paper line of the month. The kits are one of the best deals in the industry as we load them up with as much scrappy goodness as we can find, and always charge only $28!
Here is the recent May Kit:
Isn't it gorgeous!!! May is a breezy month, perfect for enjoying the first real sunny days, enjoying the pop of newly sprung flowers, and the sparkle of springtime! We've captured the season with Fly A Kite Papers and loads of bling and springtime accessories! This kit is perfect for Mother's Day, newly planted gardens, Kindergarten graduations and blissful picnics at the park!
You can sign up for a subscription or order a kit on the kit page. The current may kit has a lot of "Fly a Kite" by October Afternoon in it.
I would love to share some projects with you but unfortunately, I will pick-up my kit later from the courier. For now, since we are highlighting our co-DTs amazing works, I would like to show you some amazing projects Camilla did for our April Kit featuring MME's Quite Contrary line.
Camilla's Layouts using the April Kit
She's so amazing! I love her composition, her arrangement and the story of each layout. To see more of her amazing works, visit her blog often. Click
here
. And to get more inspiration from all the DTs,come and visit our
gallery
!
Now for the exciting part!
THE PRIZE:
The Nook is offering three prizes - one is a super duper grand prize - the grand prize winner will receive the

entire So Sophie line from MME

as well as their other release,

Meadowlark

. two runners up will receive a

Jenni Bowlin kit

and a

SEI prize package

.
Winners will be drawn on May 3rd. all yo
u need to do is post a comment here and then hop to the next blog be sure to post on all the blogs - one blog will be chosen via random number generator to have three winners chosen from it, also via random number draw. the blog numbers are in the order of the hop.

What you need to do:
We would like to invite you to be a part of our growing s
crapbook family. Join us at our
message board
and introduce yourself, become a fan at our
Facebook Page
, follow my blog and leave me a comment stating you have done all of these.
Thank you so so much for dropping by and I do hope that you continue supporting us at the Nook. We guarantee you that we are always doing our best to give our members the greatest kits and a lot of inspiration to motivate everyone.
Now I would like to forward you to your next destination, the amazing, the talented, the gorgeous,
Camilla Ekman
.