How do you like my blog design so far?
It's been more than a year since I last changed it. I was motivated by
Becky

'
s post over at
Nook's Message Board
. I felt so guilty for forgetting about it. Yesterday, I finally did it and changed the design a bit. This is the least I can do for this week since I haven't scrapped for 5 days now.
I hope you like it! If for any reason you see any glitch please let me know. Thanks!
Now, I'm sharing another layout that I did using
My Scrapbook Nook's May kit
featuring October Afternoon's Fly a Kite. The papers here are perfect for outdoor photos. I have used a recent photo of Hannah taken a few weeks back when we went to a private resort to celebrate her 2nd birthday.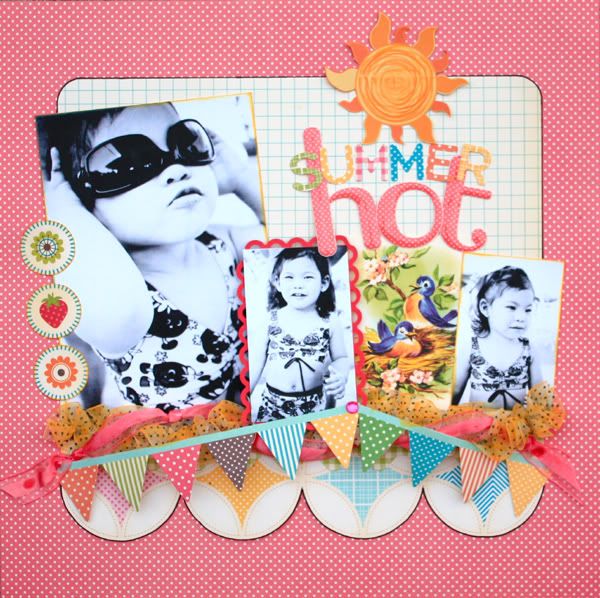 Patterned Papers:
October Afternoon's Fly a Kite
Alpha:
AC Thickers Umbrealla and October Afternoon's Alpha Stickers
Ribbons:
SEI
Wild Card:
October Afternoon
I really did a lot of experimenting here and tried not to be so structured. It was really fun embellishing this page using the SEI ribbons that came with the kit. I initially sewed on the mesh polka dot ribbon tightly to create some ruffles. I also painted it with yellow to blend it with the colors from the patterned papers. Then I just wrapped around it with the pink ribbon.
It was different, kinda messy,really fun and I liked the final outcome!
Thanks for viewing and remember, there is an ongoing
NEW MEMBER SPECIAL
over at
My Scrapbook Nook
for the entire month of May.
If you sign up this month, you will
receive a $15 shop credit or the next time your kit is billed we will take $15 off your next kit

.
Let me tell you about My Scrapbook Nook Kit Club. The kits are loaded with the latest and greatest products in the scrapping industry. It's always balanced and creatively designed to help you in your artistic journey! We draw from a variety of manufacturers, favoring textures, patterns and concepts that compliment and enhance the paper line of the month. The kits are one of the best deals in the industry as we load them up with as much scrappy goodness as we can find, and always charge only $28!
Get your
Nook Kits
now because everything is just getting better and better. And remember, if you avail of our subscription, you'll get these kits for
only $28 monthly
. Avail of our 12months subscription and you'll get your 13th month kit for
FREE
. So hurry up! Sign up now! And dont forget to place my name (LG) on the referral field.
ORDER HERE!!!!
and avail of the
NEW MEMBER SPECIAL