I know many of us dislikes Monday because it means another new week of work, work and more work. As for me, I dislike Monday too but I also look forward to it because it means another chance of making greater things and more opportunities. I also think of Monday as a time for life planning. I schedule our meals, agendas, groceries, bills, and a lot more.
This Monday is not so different. Aside from the usual stuff, I plan to spend more time with my DD. She is growing up so fast, before I know it she'll be old enough to disobey me, something that all mothers should expect one of this days. That is really normal since we are 2 different individuals with different personalities, likes and dislikes.
Hannah is only 1yr and 9mons old but I can definitely see some independence already. She knows how to say NO if she doesn't want something, she knows how to say PLEASE if she needs anything and to say THANK YOU in appreciation of what I do for her. Time flies so fast so I see to it that we enjoy every day that we have.
The layout that I will share to you today has a photo of Hannah at our roofdeck where most of our plants are. She loves nature so much. She loves watching the birds fly, the smell of flowers, the flying colorful butterflies but with her enthusiasm with all of this she tends to have a hard time controling herself because of its cuteness and tends todestroy stuff like plants and flowers. GIGIL is the right tagalog word for it.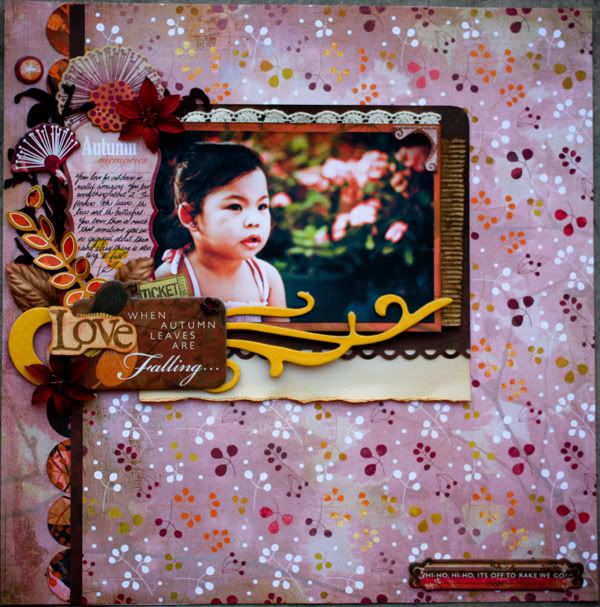 Cardstock:
Cardinal Colours
Patterned Papers:
Basic Grey Indial Collection - Woodrose, Autum Glaze, Dogwood, Aspen and Mapple Sugar
Chipboard:
Basic Grey Indian Summer Chipboard Elements
Stickers:
Basic Grey Indian Summer - Elements Stickers
Flowers:
Petaloo
Felt:
Prima Felt Stems - Brown
Others:
Corrugated board, swirl chipboard, distress inks, word stamp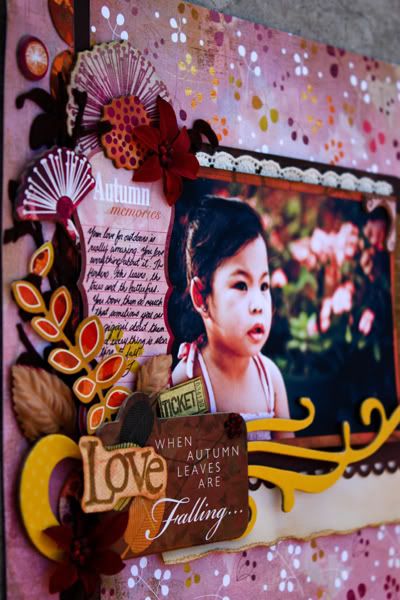 Materials are available at
YourScrapbookStash Online Store
. I would like to invite you all to shop there because they have the lowest shipping rates especially for international customers.
******************************
And a reminder:
Get chosen as the Guest Designer for the month!
Upload your creation at our
USER GALLERY
. Each month, we will highlight one customer. Our Design Team will choose one person from the gallery and they will be on the SPOTLIGHT. Each member of the DT will have a chance to 'scraplift' one of your layouts or ideas from the gallery. User will receive a Gift Certificate worth $10.00 to the store for being the Featured Member. We can't wait to see your creation using this sketch!!!
And don't forget, January is our Birthday month so as our gift to you, you will get a 20% off from your entire order. Enter coupon code
THIRDBDAY
during checkout to receive your discount.
Save 20% off all NEW products and an additional 20% off all SALE prices.
Grab this opportunity now! Click
here
to start shopping
Thanks for dropping by! Happy Monday to all of you!