I am not referring to an out of town getaway but a time off from work. Yup, it's my 2nd day and so far I have made 2 layouts and 1 card. Exciting for me, e? LOL The reason I took this time off is so that I can catch up with my Christmas shopping, do some scrapbooking and spend more time with my family. I just love the idea of waking up in the morning and not worrying about work at all. And I am loving it!
The first layout that I made was the sneak peak that I posted yesterday. For today, I would like to share to you the other projects that I finished today. It's only 4pm here so Im hoping I can do at least one more layout.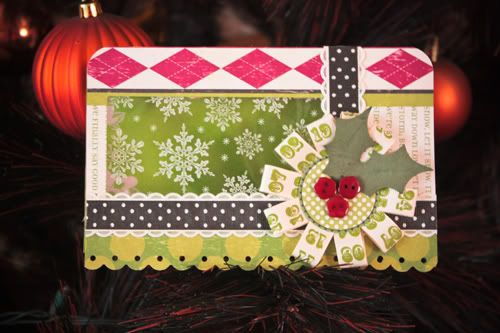 Both projects were made using My Scrapbook Nook's December kit with add-ons. I am so thrilled to use the Mistletoe collection by Making Memories because it's gorgeous and very inspiring. I do hope hope that this layout inspires everyone to start creating their holiday layouts.
Remember, this kit is available at
My Scrapbook Nook
. And remember, if you avail of our subscription, you'll get these kits for
only $28 monthly
. Avail of our 12months subscription and you'll get your 13th month kit for
FREE
. But wait, you still have the chance to avail of the
Black Friday Special
from My Scrapbook Nook. Click
here
for details.
So hurry up! Sign up now! And dont forget to place my name (LG) on the referral field.
ORDER HERE!!!!
Be back later! Need to attend to my baby. Have a great day!